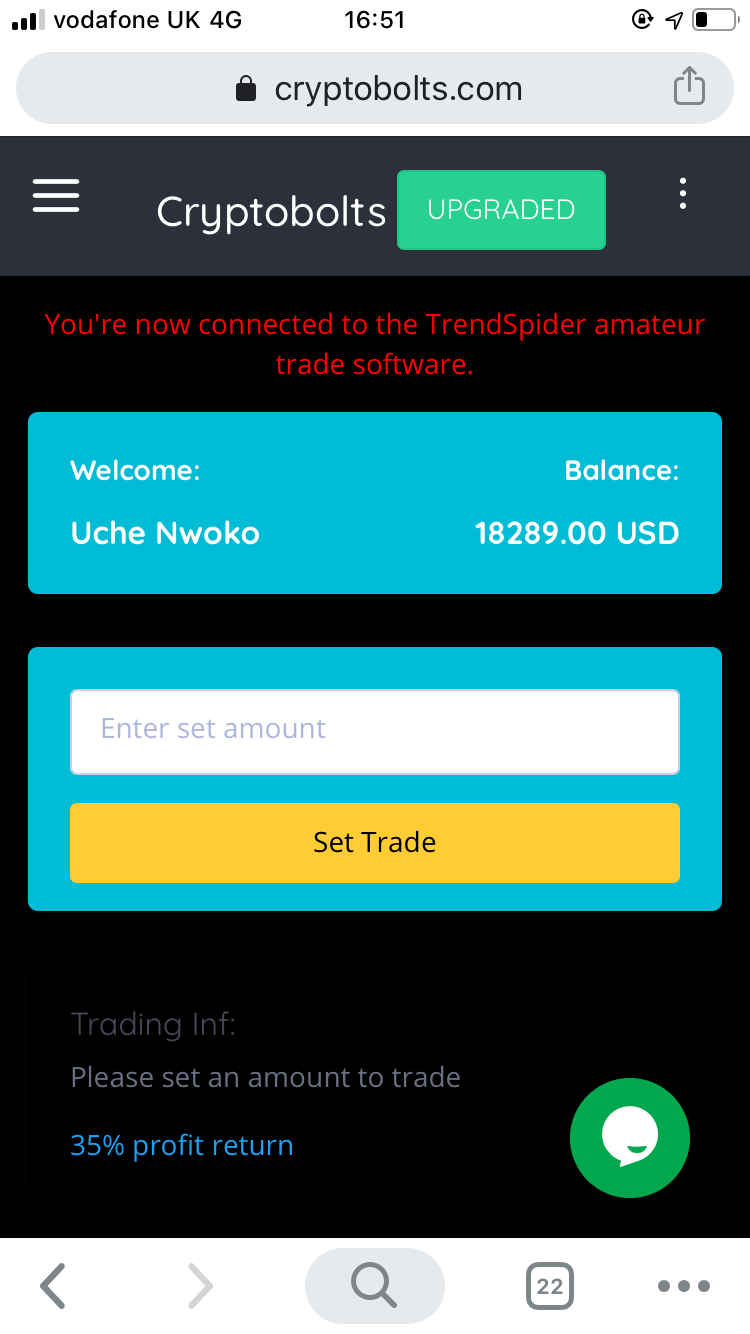 Part 1:
Please all Instagram users do not fall on this Instagram account User's tricks, she is a scammer and steals money from people, please read the story below.
This so-called Cynthian_nelson started following me on Instagram since May this year, she started by chatting with me as normal social media friends,
But late last 4 weeks ago she started asking me to invest in her trading platform, she told me that she can trade on my behalf if I purchase bitcoin worth of $500, at first I felt so reluctant to listen to her story because I am aware of online scammer, but she truly convinced me by sending people testimony with fake screenshot of their success. When I finally agreed to participate. She sent me the following websites: cryptobolts.com, and coimama.com, she instructed me to register on both websites, I researched the coinmama.com only, it is a legitimate site to buy and sell cryptocurrencies. See the next Part 2
Part 2:
According to her, she said that the cryptobolts.com is the trading platform she will be using to trade on my behalf, she demanded my login details for the purpose. I bought $500 worth of bitcoin from the coinmama.com and send it to her through the bitcoin wallet address she provided it was the coinmama.com that confirm the wallet address and finally send the money to her. I could log in and see the trading tools and my account balance reading $0.00. See the next Part 3
Part 3:
After about 2 days she received the $500, On the following day she chatted to me through her Instagram to view my account, when I log in I found out that the balance on my account suddenly became $1555, I was excited and still do not fully believe that it is real, but she keeps on promising that I should not worry that she will make me a rich man, I do not realise I was being fooled.
Part 4:
When I asked her why the sudden rise in profit within a short time with just little amount of $500 on a single trade, she replied that bitcoin market is in our favour that is the reason she could make good trade at the same time. In the next 3 days the account again increases to $4331, and the next day it increases to about $12000, at this stage I received an email from the cryptobolts.com that the trading website has just expired, and I should request for an upgrade, I thought it was just to send an email then the account will be upgraded, but that is not the case, I was given three different options to pay for, the first option was $3000 to upgrade to silver, $6000 for gold and $9000 for the platinum.


Part 5:
I chatted with her about the options for upgrade, and I told her that I do not believe the whole thing. She still keep on convincing me that as a professional trader she has traded for more than 2000 of her clients with great success, it was then I agreed to go for the list option the $3000, but I told her that there is money on the trading account, she should pay from the amount she told me that if I used the amount to pay for the upgrade that the Software will be corrupted. As you can see, she was very prepared for the scam. She promised to borrow me $2000, that I should pay the rest $1000, the next day I sent the sum of $1000 to her, after about 4 hours she chatted me on the Instagram that she could only afford to borrow me $1500, this happens after she has received the money. I was very furious and angry about how things are turning out, because I have already spent in total of $1500, and my mind is telling not to give up, but another mind is telling me that it is all fake, but finally I sent the remaining $500, so all the total money sent to her is $2000.
Part 6:
After about 24hr she received the money she chatted me to see my account when I log in to cryptobolts.com I saw that the amount increased to $18289. It was at this stage I informed her that I want to withdraw part of it, she told me to wait so that more profit can be made because I wasn't believing her anymore. She told me to request for a withdrawal since then I have written several emails and filled in the request form on the website but no response until the moment.
This Cynthian_nelson block me from Instagram. But I have told her that I will not rest until I get my $2000 back. I have contacted my bank and the coinmama.com they all promised to investigate further.
Report comment
Thank you for report a misuse case.
Please login or register to leave a comment…