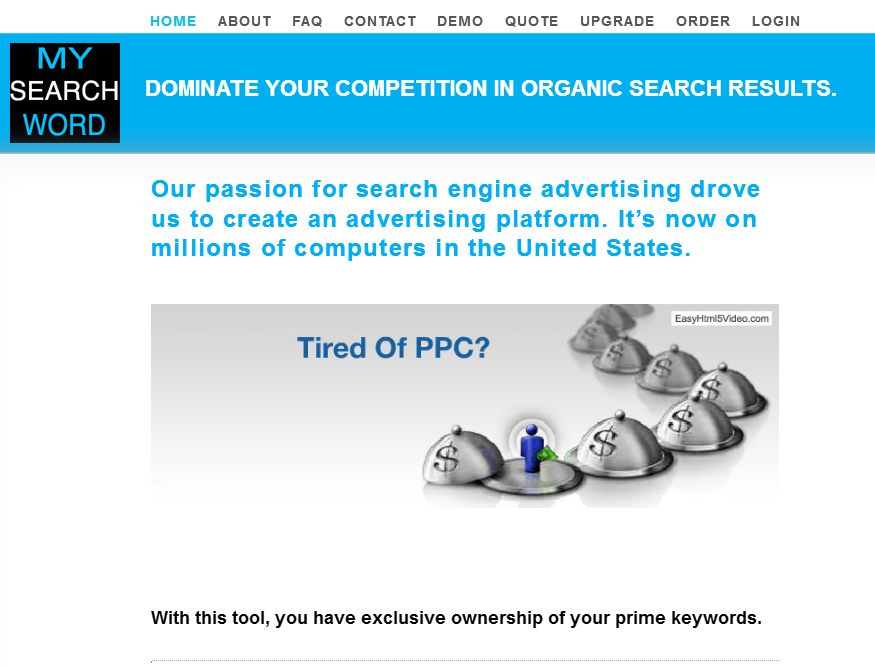 Buyer Beware!!! This company is a scam. They spam you with an advertising opportunity and then say they don't spam.
1. no information about the company exists except a couple of duplicate blog posts.
2. They use domain services that also hide their identity.
3. They only accept payment via wire transfer and over-night check.
4. Their off-site call takers use to give out the old business name as Keyword Advertising Edge.com until about a month ago they got an updated script. However the old 2013 youtube video has nearly an identical script and graphics as the video on their new website www.mysearchword.com, and now they just call themselves BannerAds while directing you to go their scam site www.mysearchword.com
(see the 2013 youtube video here https://youtu.be/CLWgyZBGSvw )

Here's the betterbusinessbureau.org showing you the address of the Keyword Advertising Edge.com https://www.bbb.org/us/ca/westlake-village/profile/web-hosting/keyword-advertising-edge-1236-92013307
Isn't it interesting how the off-site call takers give out the old address of Keywordadvertising.com as the address of the new company name BannerAds for the scam websites www.mysearchword.com, etc.

5. Their websites : http://www.mysearchword.com & www.searchword.net have no information about them. This company leads victims to believe that if you buy specific keywords you will have your website magically pop up at the top of google, bing, yahoo, via a web browser extension called "promotion alert".
They claim there are 40 million users of this browser. Funny how the 2013 youtube video boasts 90 million users of the browser extension.
6. "Promotion Alert" which is said to be offered by http://www.enhancedbrowsing.com is also a non existent website company.
7. You can not download the browser extension from the chrome web store.

The people that answer the phone for this scam are "off site receptionist" I believe these receptionist are not apart of the scam. They are simply "work at home" call takers that read a script and get your information and pass it along to the scammers at http://www.mysearchword.com and www.searchword.net The receptionists will tell you the company they are taking calls for is called: bannerads or KeyWordAdvertisingEdge.com or whatever the flavor of the month is. The receptionists will not tell you the name of the company they are employeed by. The websites www.mysearchword.com , etc use a generic iframe website tool to fool you into thinking that the so called "Live Demo" you see is really showing your website at the top of google, bing, and yahoo. Do your research thoroughly you will see this company is running a scam. Warn others.



Report comment
Thank you for report a misuse case.
Please login or register to leave a comment…